This past weekend, my husband and I marked our sixth wedding anniversary! I cannot believe how time passes so quickly. Anyway, to celebrate, I baked and decorated a delicious, triple chocolate, out-of-this-world treat. Today I'll share with you my "sun and moon" cake tutorial, so you can create one for your next dessert-worthy event!
After some fruitless Instagram inspiration searching, I decided to formulate a cake concept based on a popular E.E. Cummings poem line: "you are my sun, my moon, and all my stars." You can see a preliminary sketch on my IG story highlight, here. Basically, this blue ombre design features fluffy, palette-knife clouds; sharp, bright stars; and an effervescently yellow sun and moon, created from delicately piped flourishes and rosettes.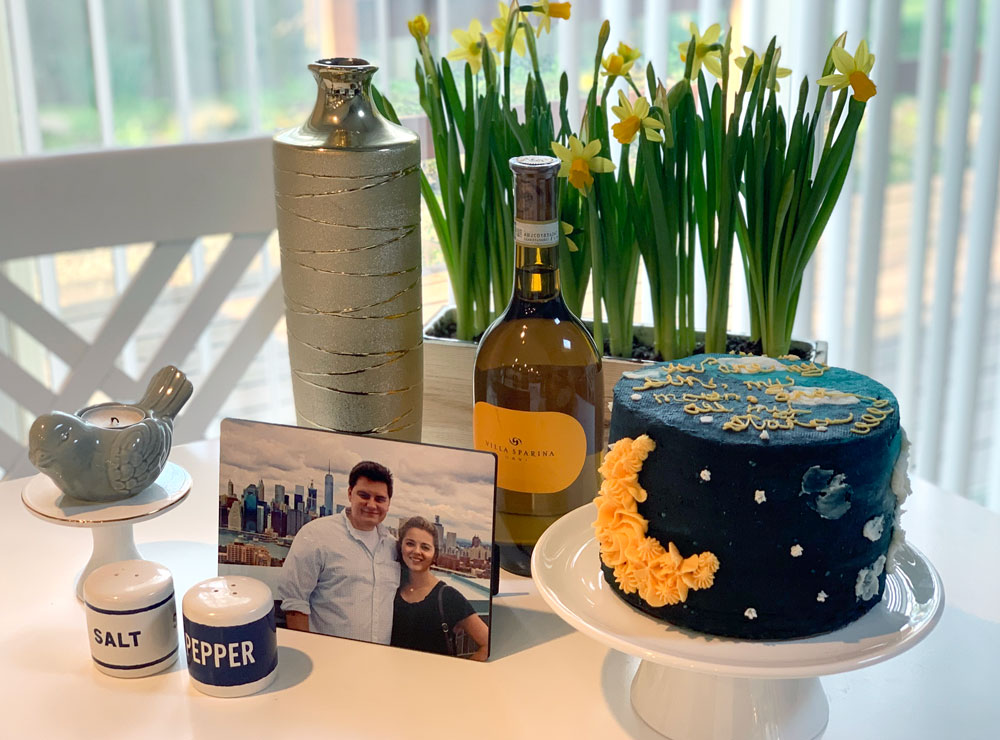 This post contains affiliate links, which means I may make a commission based on resulting sales. See the full disclosure policy below.
So, let's gather some baking materials and get started!
Here are the items you will need to bake and decorate your sun and moon cake.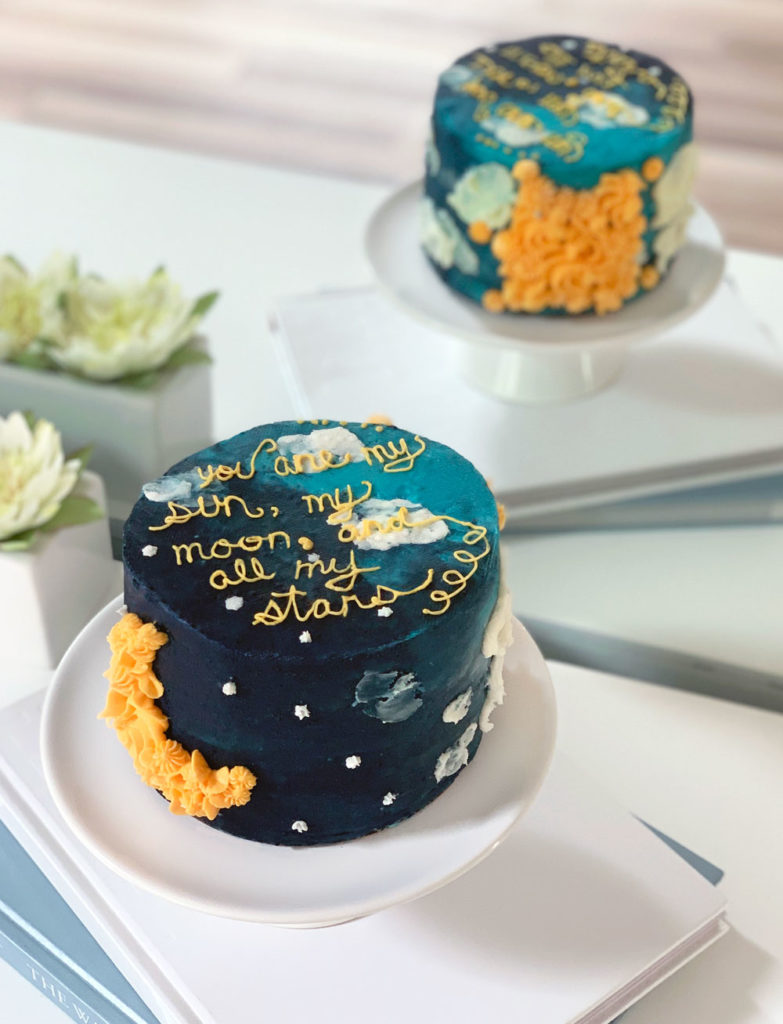 Now, prepare your cake components.
To assemble your delicious sun and moon cake, you will need to prepare the following elements. Click on each link for the full recipe and instructions.
Cake, Ganache, and Chocolate Buttercream
Since I wanted to focus on the decorating aspect of this sun and moon cake, I needed a tried-and-true recipe that I knew would turn out well. For that reason, I turned to one of my favorite baking bloggers: John, from the Preppy Kitchen.
Following the chocolate cake recipe to a "tee" resulted in a beautifully light, moist, and flavorful sponge. I also prepared the ganache as directed, and let it cool in the freezer for about ten minutes before layering it on the cake. You can cool it to room temperature on the counter if time allows.
To create your own sun and moon cake design, you will only need a quarter of the chocolate buttercream denoted in John's recipe. This will make up the filling between the layers of cake. I divided each ingredient quantity by four, which results in the following recipe adjustment:
1 stick of room temperature butter
1 1/2 – 2 cups of powdered sugar
1/2 cup cocoa powder
1 1/2 tbsp heavy cream
1/2 tsp vanilla extract
dash of salt
White Chocolate Buttercream
Next, prepare your white chocolate buttercream as directed in the recipe from Chocolate, Chocolate, and More. Though John's chocolate buttercream is exceptionally delicious, it is, of course, brown, from the cocoa. However, to create a vivid, colorful exterior design on the cake, pure white buttercream is necessary. Thankfully, it is just as delicious and adds an additional chocolate element, completing the perfect trifecta in this triple chocolate cake!
Before incorporating the cooled white chocolate into the whipped butter and sugar, make sure that there are no remaining unmelted lumps of chips. If you aren't sure (since the melted chocolate is quite thick), you can push it through a sieve or strainer with a spatula. Otherwise, any small chip pieces will interfere with a smooth finish on the cake and may even clog the small piping tip openings.
Next, portion some white buttercream into three separate bowls, reserving a small amount of plain white frosting for later. In one of the bowls, mix a dab of blue food color gel and just a touch of green to create a bright, daytime sky color. In the second bowl, use blue and black to formulate a deep, night sky hue. Finally, in the last bowl, mix yellow with a dab of red food coloring gel for your moon and sun design.
Keep in mind, when mixing colors, less is best. Food coloring gels are especially saturated, so start with just a dab in the frosting, mix, and then add more accordingly. Sometimes even one drop is too much, so I like to dip the tip of a toothpick into the gel coloring and stir it into the frosting.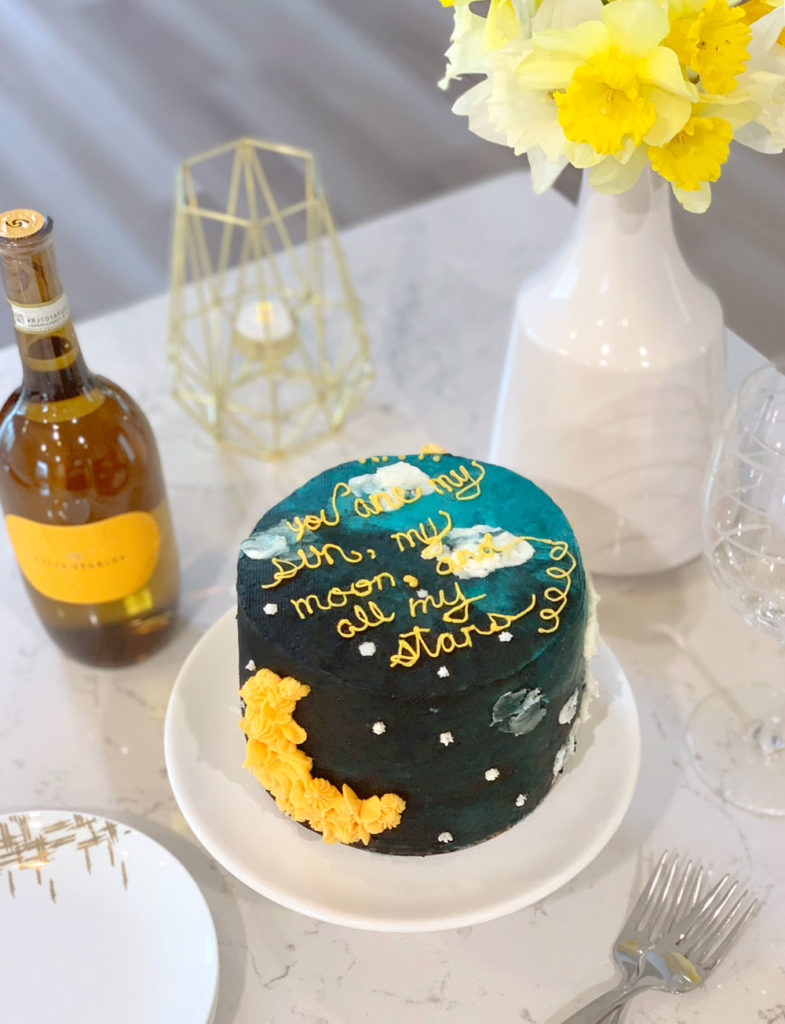 Time To Decorate!
Once your cake layers and ganache are cooled to room temperature and the buttercream frostings are prepared, you're ready for some decorating fun! Take peek at my video tutorial and then scroll further for some extra tips and instructions!
Sun and Moon Cake Video Tutorial
Sun and Moon Cake Written Tutorial
Step One
Smooth chocolate buttercream on the first layer of cake, piping an extra ring around the outside edge to create a "dam." Make sure there are no gaps through which the ganache filling could seep. Spoon the ganache generously into the center of the first layer.
Step Two
Carefully place the middle cake layers onto the first, and repeat the process with the chocolate buttercream and ganache.
Step Three
Flip the final cake layer upside down before placing it atop the rest. Typically, the bottom of the cake has clean, straight edges, formed by the cake pan. By inverting the layer, you create a smoother, sharper surface to frost. This allows for crisper edges after applying the buttercream and an overall cleaner appearance.
(Eagle-eyed viewers might notice that in the photo of my cake,  I only have three layers, even though the recipe accounts for four. I simply reserved one of the layers to make and freeze cake balls for another time!)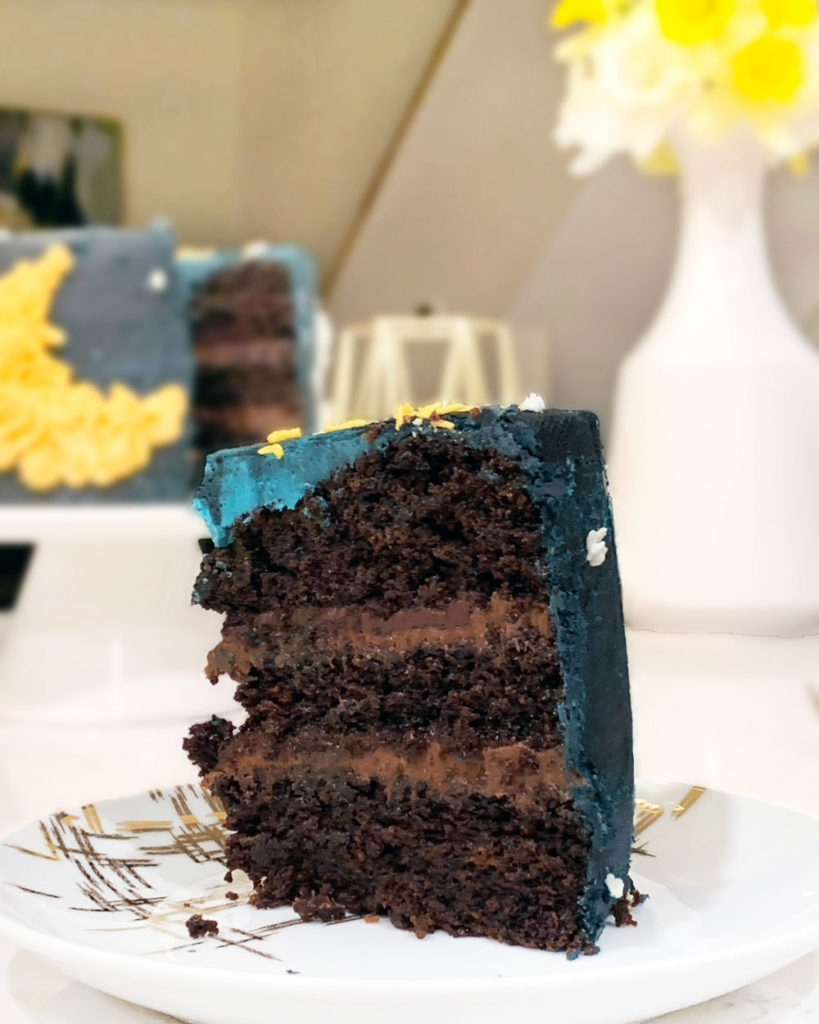 Step Four
With an offset spatula, apply the sky blue frosting to about two-thirds of the cake. It doesn't have to be very neat at this point. Then, wipe the spatula clean, and apply the dark blue frosting to the remaining unfrosted area.
Mix a small amount of light and dark blue frosting to create an intermediate tone. Then, apply it to the two areas on the cake where the light and dark shades meet. This will soften the color fade and create the appearance of an ombre sky.
Step Five
Hold the straight edge of your scraper perpendicularly against the side of the cake and, beginning with the lightest section of sky blue frosting, smooth out the buttercream. It won't be perfect at first – and that's okay.
However, don't scrape the buttercream around the full circumference of the cake like normal; doing so will smudge darker frosting into the lighter and muddy the fresh, bright color. Instead, smooth half of the buttercream at one time, and then adjust the grip of your cake scraper and start again in the light frosting, this time, rotating the opposite way.
Step Six
If, and where necessary, use an offset spatula to fill in holes and add more color to brighten, blend, or darken the ombre sky picture. Continue to scrape around the cake until you achieve an even, blended finish. Feel free to allow some variation in streaking and color, as a normal sky isn't typically just one shade of blue. Let your artistic side take over!
At this point, use your spatula to apply frosting to the top, too, and blend in a similar way. I like to use a rounded edge of the cake scraper to gently pull frosting from around the edges onto the top of the cake, towards the center. If your buttercream on top has begun to "crust" or harden, you can lay a paper towel on top, and gently press down with the back edge of a spatula to smooth the surface further.
Step Seven
Next, scoop a small amount of white frosting on a thin offset spatula, and gently press it into the cake. Release, pull away, and repeat at different angles to create the look of palette-knife painted clouds.
Using a small, open star piping tip and some of the remaining white buttercream, add short bursts of stars around and on top of the dark frosting.
Step Eight
Decide where you want your sun and moon design to go. Use a toothpick to lightly scrape a sketch into the buttercream, creating a guide for piping. You can also use the toothpick to gently remove any clouds or stars that happen to fall into these areas.
Then, begin piping a few large yellow rosettes into the sun and moon guide by moving the tip in a spiral motion. Next, using the same tip add some smaller drop flowers, by pressing and releasing the piping bag without any rotating. Finally, repeat the drop flower motion with the large star tip, filling in any leftover, open areas.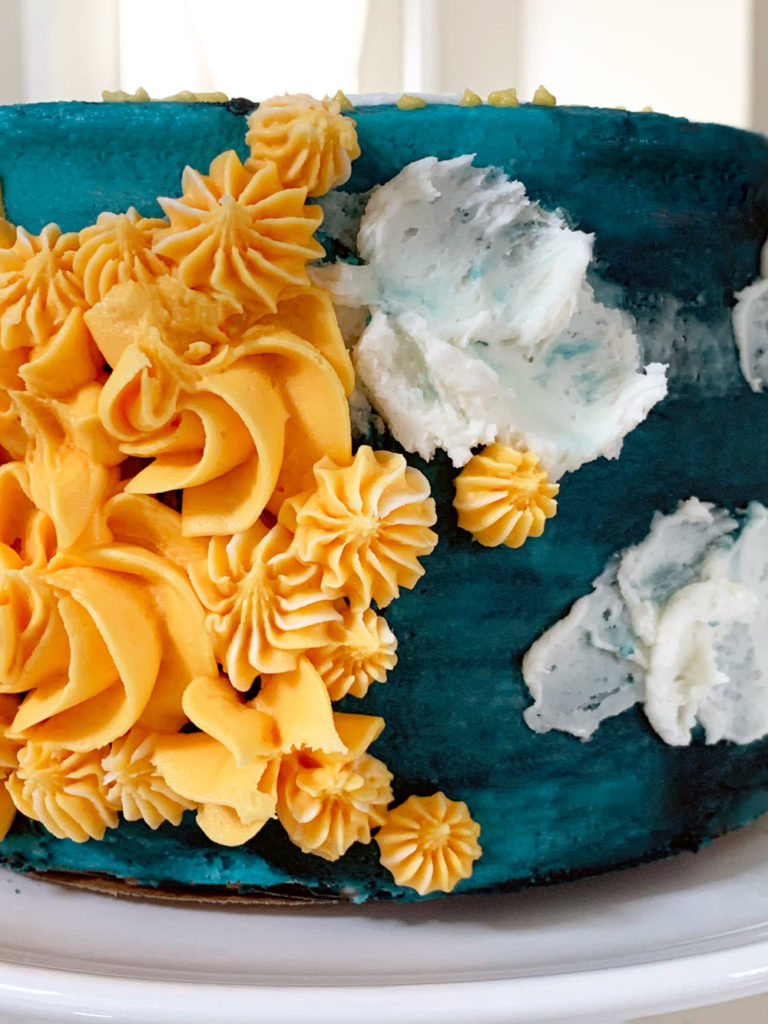 Step Nine
With a toothpick again, roughly plan out the text for the top of your cake. I chose to use the line "you are my sun, my moon, and all my stars," but you can choose whatever best expresses your feelings or fits the event. Affix a small, round piping tip to the bag with yellow frosting and carefully trace over your toothpick-ed words.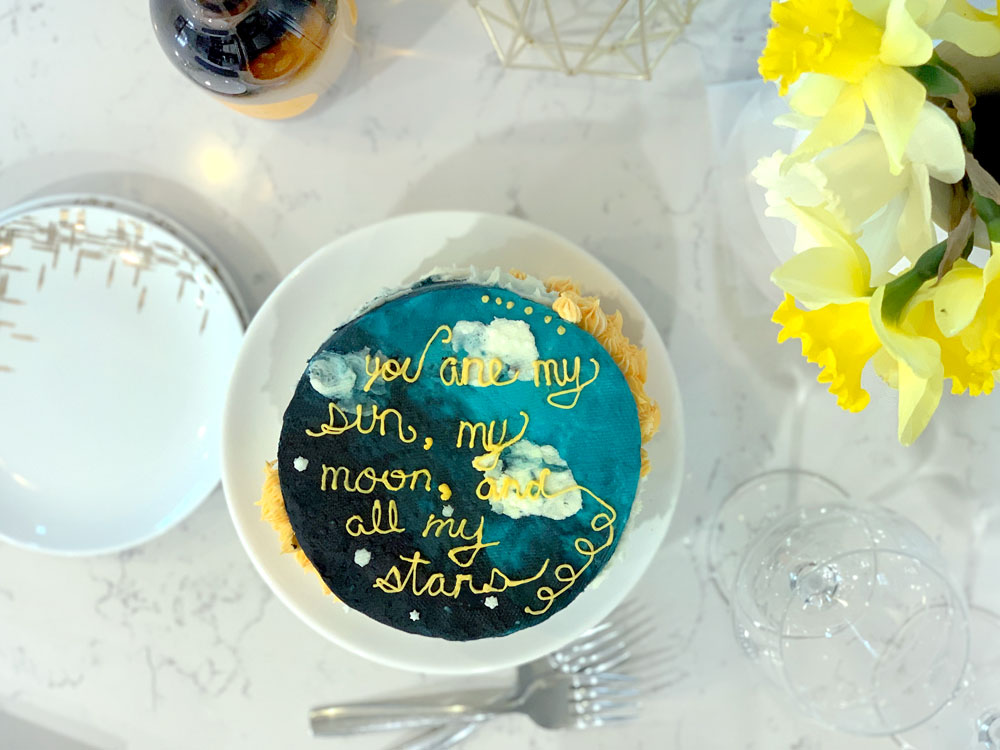 How To Enjoy and Store Your Cake Leftovers
Feel free to save your delicious dessert covered, at room temperature, for a few days. That is – if there are any leftovers for saving! The cake is so moist and the buttercream is stable enough to keep this treat just as tasty as it was right out of the oven, three or four days later.
Max and I have enjoyed munching on this cake for the past few evenings. It has helped make our anniversary in quarantine (#ThanksCOVID) a little bit more special. Plus, this is definitely one of my favorite cake recipes – ever! I just love the perfectly balanced chocolate flavors, as well as the creamy ganache filling and not-too-sweet cake base.
I hope you love this treat as much as we do! Oh, and be sure to tag me on Instagram in any photos you post of your sun and moon cake! I love to see your works of culinary art!!
If you're looking for another great chocolate dessert, be sure to check out my recipe for Mocha Cupcakes – these things are addictively delicious!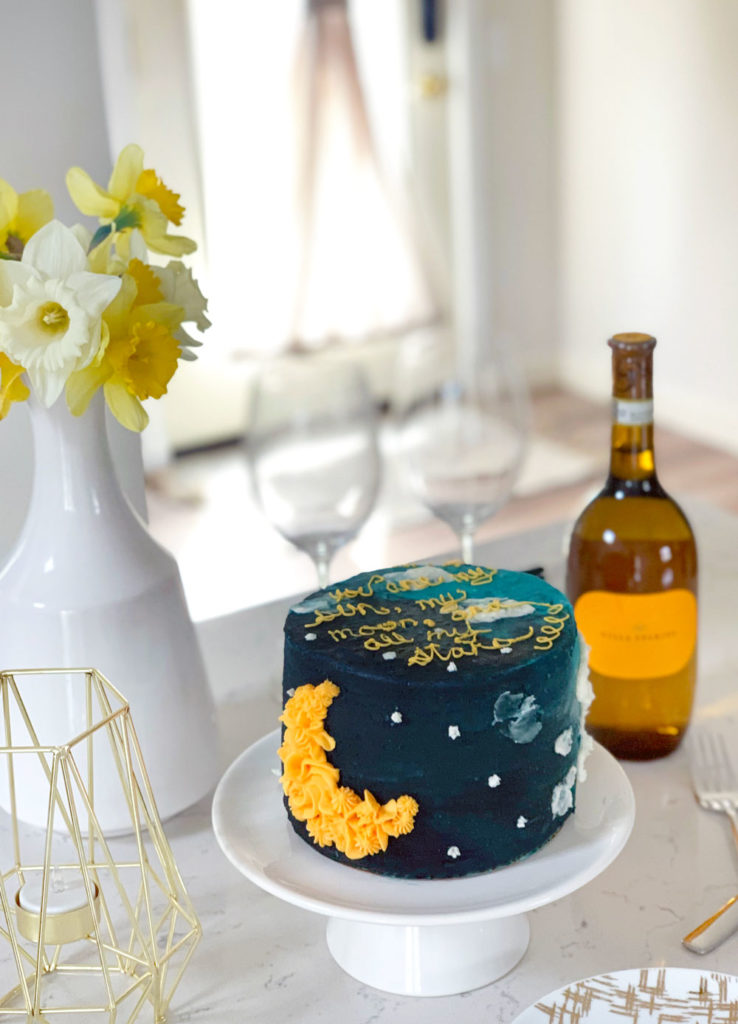 And, enter your email below to receive notification of my next blog post like this one. You don't want to miss it!
Take care guys! Until next time…
XOXO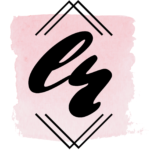 P.S.
See my privacy policy for the full Amazon Affiliate disclosure. Profits earned from affiliate commissions help to keep this site running, so that I can continue to bring great content to awesome readers, like you! If you would like, you can still support by clicking through this link and making any other purchases you need. 🙂
P.P.S
Addicted to Pinterest, like me? Pin an image below to save this recipe for later or show it to your friends. After all, sharing is caring. 😉