By the first of September, I am done with the summer heat and anxiously await the arrival of autumn! Refreshingly cool air, warm bonfires, firey colored leaves, and – of course – PUMPKIN EVERYTHING! I have already had three pumpkin spice lattes, and I'm not even a little bit ashamed to admit it.
However, one of my favorite aspects of the changing season is being able to swap out summer trinkets for cozier fall decorations, and, doing so on a budget! (Who doesn't love finding great deals?!)
So here is my annual roundup for the top ten fall decor items under $10 you need for this season. (I added a few "bonuses" as well because there were just too many cute fall decorations!)
Most of the following items are also eligible for Amazon Prime's two-day delivery, so get ready to decorate! Click on any of the images or hyperlinked text in red to see the product details and shop now.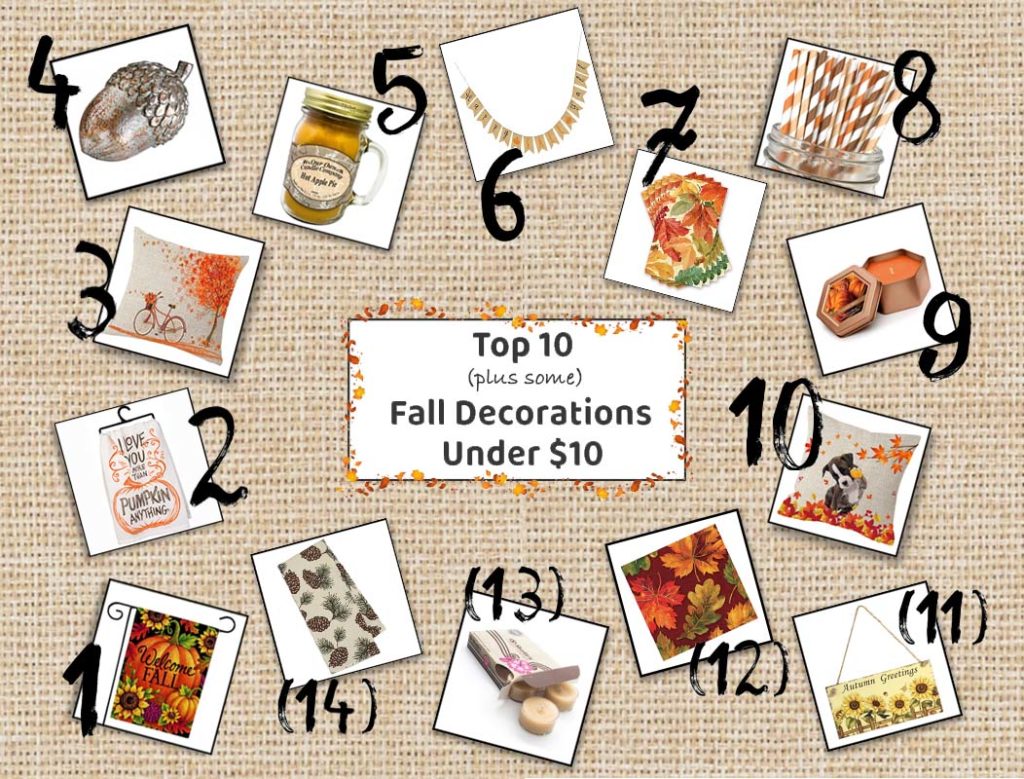 This post contains affiliate links which allow our site to earn a small commission from referred sales. This program does not cost the purchaser any additional fees.
1. "Happy Fall" Garden Flag
2. "I Love You More Than Pumpkin Anything" Towel
3. Maple Tree Throw Pillow Cover
4. Acorns
5. Hot Apple Pie Candle
6. Fall Banner
7. Fall Leaves Guest Hand Towels
8. Autumn-Colored Paper Straws
9. Root Brand Travel Candle Tin in Pumpkin Spice
10. Golden Autumn Harvest Dog Lover Pillow Cover
More Fall Decorations to Browse
…
I couldn't keep this list to only ten, so here are some other fall decorations and "add-on" items you may like!
11. Autumn Greetings Hanging Plaque
12. Fall Flourish Paper Napkins
13. Vanilla Maple Tea Light Candles
14. Pinecone Dishtowel
Done Shopping

?

I hope you enjoyed this seasonal round-up of the best fall decorations on Amazon under $10. Leave me a comment below and let me know what your favorite fall decoration is – whether on this list or not! 🙂

If you'd like to read my last autumn-themed post, check it out here: DIY Fall Faux-Floral Arrangements!

Feel free to share this post with someone who loves to decorate (or Pin the image below to remember it later!)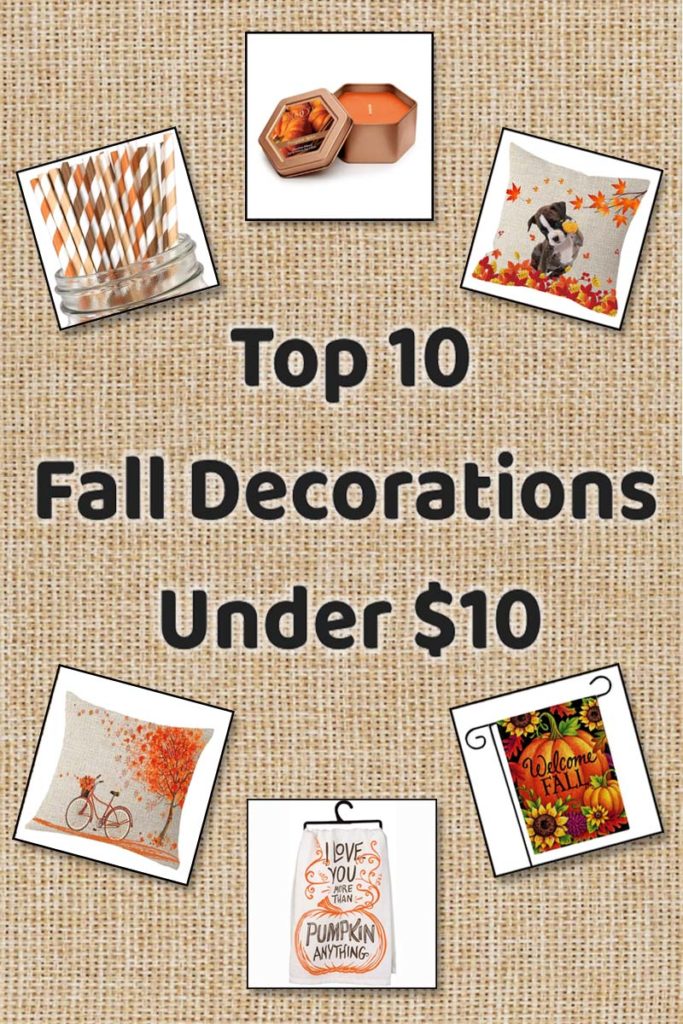 As always, thank you so much for reading! I have some exciting new posts coming up next: tassel earrings and Alaskan travels. Stay tuned, friends! Until next time… 🙂
XOXO,