What comes to your mind when you hear the word "autumn"?
Perhaps you think of fall activities like apple picking, hay rides, and watching football! For many, like myself, the cooler season brings musings of bon fires, warm colors of the leaves, delicious comfort foods, and gathering together with family and friends.
For today's blog post, I want to share how you can incorporate all your favorite aspects of the season, by throwing a fall party, chili bar style!
Whether it's your turn to show hospitality to a few of your close friends, you want to throw a big bash for all your acquaintances, or it's time to have a fun family get-together, the fall party ideas below are sure to be a major hit with all of your guests! Let's cover all the possibilities, from A to Z!
This post contains affiliate links which means our site may make a small commission from resulting sales. This is at no additional cost to the consumer.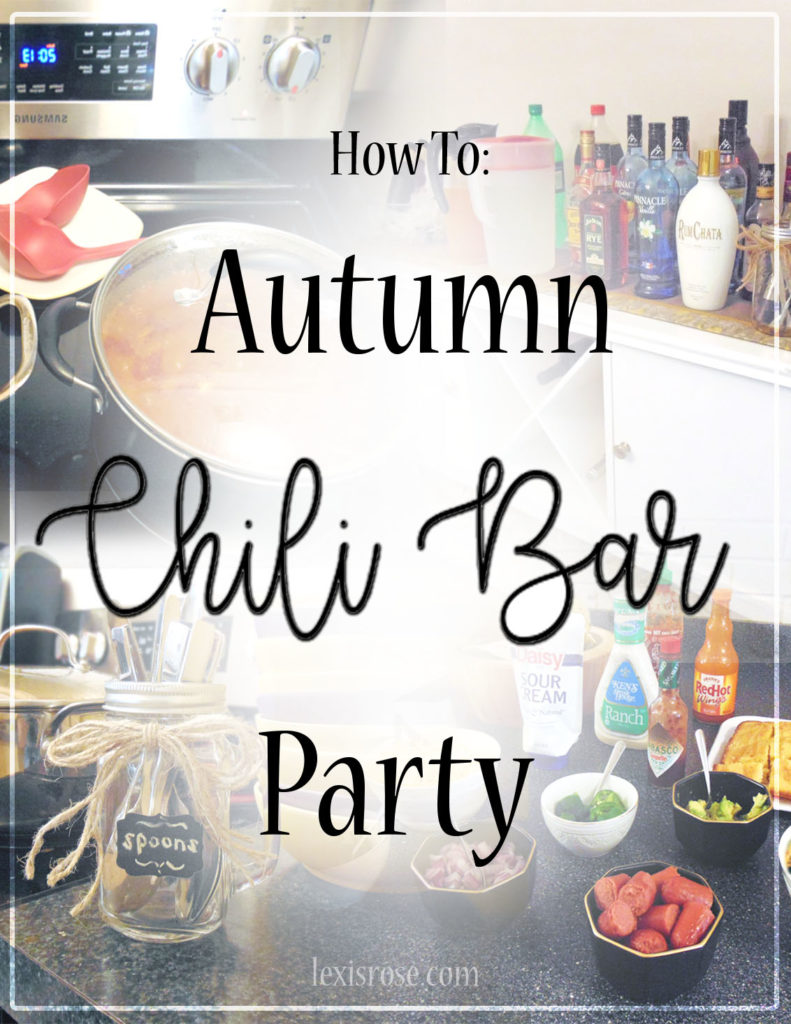 ---
Activities For Your Fall Party & Chili Bar
What are you and your guests going to do? Of course, socializing is always the main focus at a party, but it is nice to have some different activities in mind to help encourage the fun! Here are some festive fall ideas:
Make a bon fire! If you have a yard, purchase a fire pit or create your own with a shovel, dirt, and rocks! Once it gets dark, gather everyone around to tell campfire stories.
Playing games isn't just for children. Round up a few decks of cards and get everyone in on a lighthearted round of Slapjack or Spades. Apples to Apples, Pictionary, or Charades always ensures laughter among all in attendance, and are conducive to large, hard-to-organize groups. You don't have to put too much effort into organizing this; just set out a pile of games on a table somewhere and the players will come!

Game table set up to double as extra seating around the TV!

Watch something! Grab a bunch of comfy blankets, organize everyone on the couch or on pillows on the floor, and turn on the TV! I know my hubby and his friends LOVE to watch football; my girlfriends and I enjoy binging on old 90's movies. Either way, once you decide on what to watch, just keep the volume to a comfortable level to ensure the conversation is not hindered!
Try a friendly game of football if your friends are up for an active afternoon! Organize into evenly matched groups and get competitive! For a mixed-gender group, try a friendly game of two-hand-touch or flag (instead of tackling).
Organize an autumn-themed scavenger hunt. Before the guests arrive, hide fall-themed items around your house or yard. Try: bright painted acorns, mini pumpkins, or apples! Then, when you feel a lull in the excitement during your event, announce to everyone that you've hidden items around and whoever finds the most in a set amount of time wins a prize! To add some difficulty, wait until the sun sets and use small flashlights!
---
Beverages For Your Fall Party & Chili Bar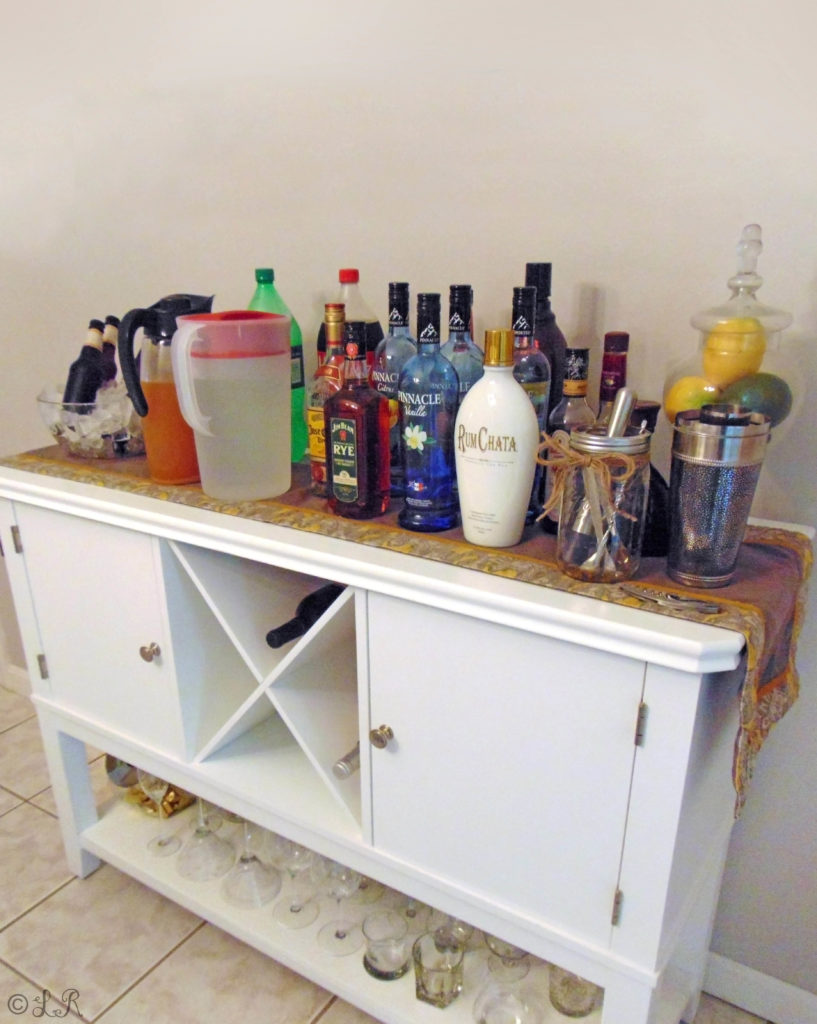 Instead of serving everyone their drinks from the refrigerator, set up a convenient, customizable beverage bar! Here are some suggestions of what you'll need to get started:
Long foyer table, buffet, bar, or even just a designated spot on the counter top.
Tools: corkscrew, bottle opener, bar spoon, knife, muddler, jigger, and some sort of container to hold and keep them organized (try a mason jar)
Cocktail shaker
Ice and ice bucket– or some sort of container, like a cool bowl

Add a cute vase for a fun way to collect bottle caps or pop tabs!

Water pitcher/cooler
Pitcher of non-alcoholic drink like cider or iced tea
Pitcher of sangria (I used the recipe from here)
One clear soda (tonic water, sprite, etc.)
One dark soda (Coca-Cola, Pepsi, etc.)
Alcohol of your preference to make cocktails and mixed drinks
Glasses (multiple sizes)
---
Cuisine For Your Fall Party & Chili Bar
Appetizers and hors d'oeuvres are said to be an important aspect of a meal because they prepare your palate and increase your appetite for the main course; I, personally, can eat like a horse and therefore like to munch throughout any event. Most people that I know would agree.
When curating a menu for your party, take into account all of your guests' food sensitivities and preferences. For example, if you're serving plenty of heavy, carb- and fat-filled toppings and sides with your chili it might be best to venture on the lighter side in terms of starters. Place bowls around the family room with some veggies and ranch dip.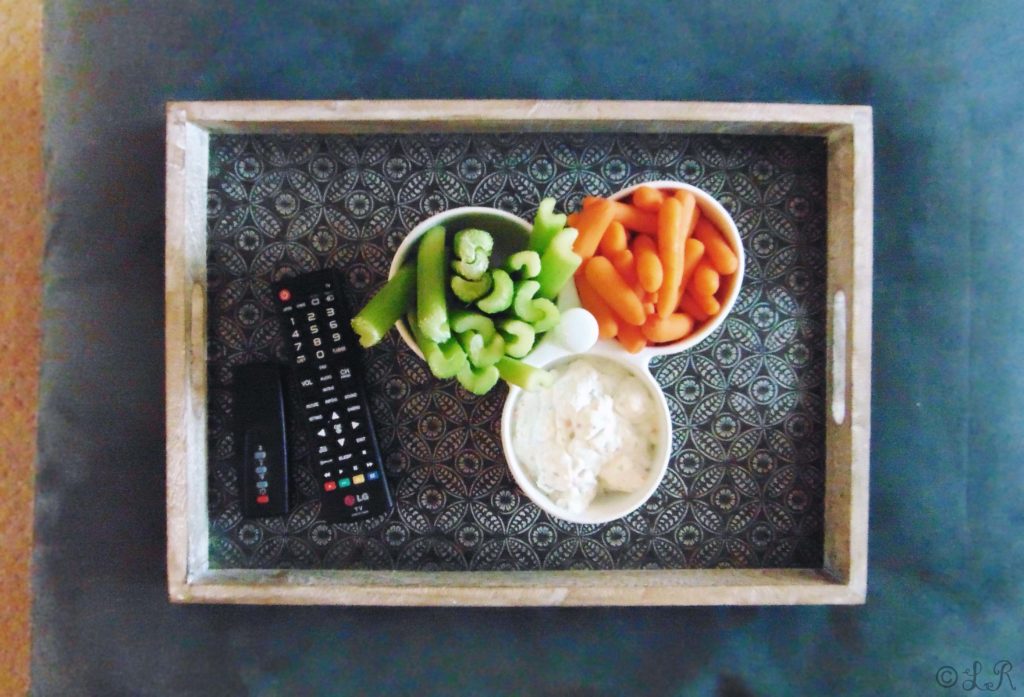 Some other ideas for appetizers to serve before your chili include:
jalapeno poppers
guacamole with plantain or corn chips
cheese ball and crackers
roasted sweet potato wedges
mini soft pretzel bites and nacho cheese
salty or spicy Spanish nut mix
Enough talk about the appetizers; let's get to the main attraction- the chili!
Again, based off of your guest list, you want to tailor your chili options so that everyone can enjoy the meal together. Having said that, don't try to create a separate chili for each and every guest- you will drive yourself crazy and likely don't have enough stove top space for that. Choose a favorite recipe or two and start there.
When choosing a recipe, take note of a number of servings each batch will produce. If you are making chili with your own recipe, just keep in mind that a serving is typically around one and a half cups. A five-quart pot should fit approximately 20 cups of chili, or 13 servings.
I really enjoy this recipe for any meat lovers, and this one for a lighter, vegetarian chili.
Don't forget multiple ladles to avoid any cross-contamination (and help the scooping move along faster).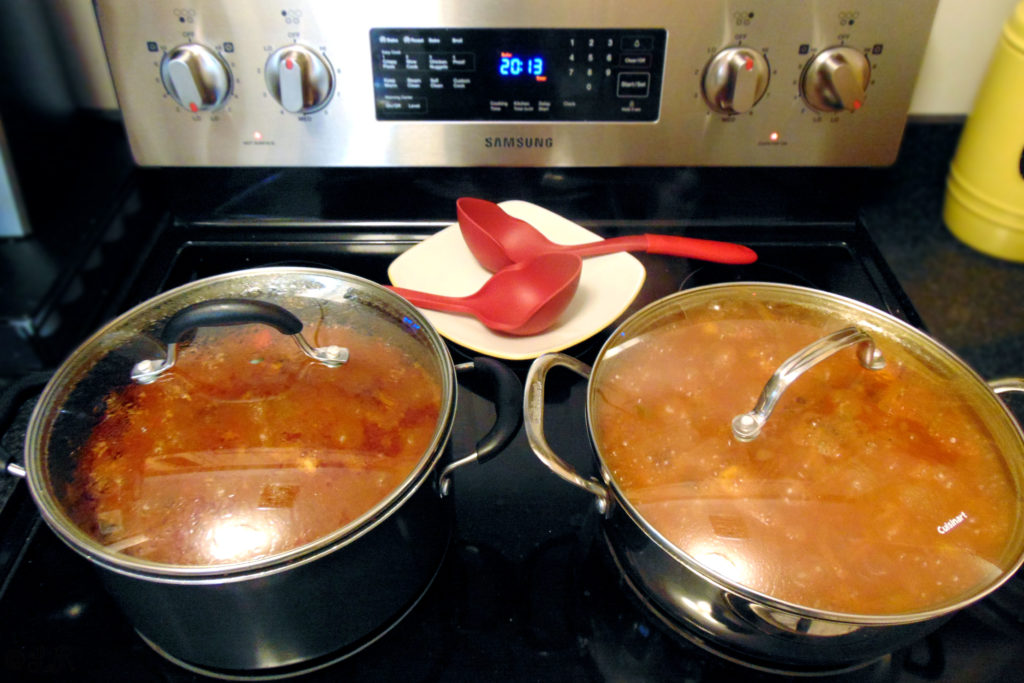 Now, we have come to the best part… *drum roll*… the toppings!
This is where you can get extra creative and really trust your taste-buds; anything and everything that you think someone would like to eat with chili- you name it- it's here.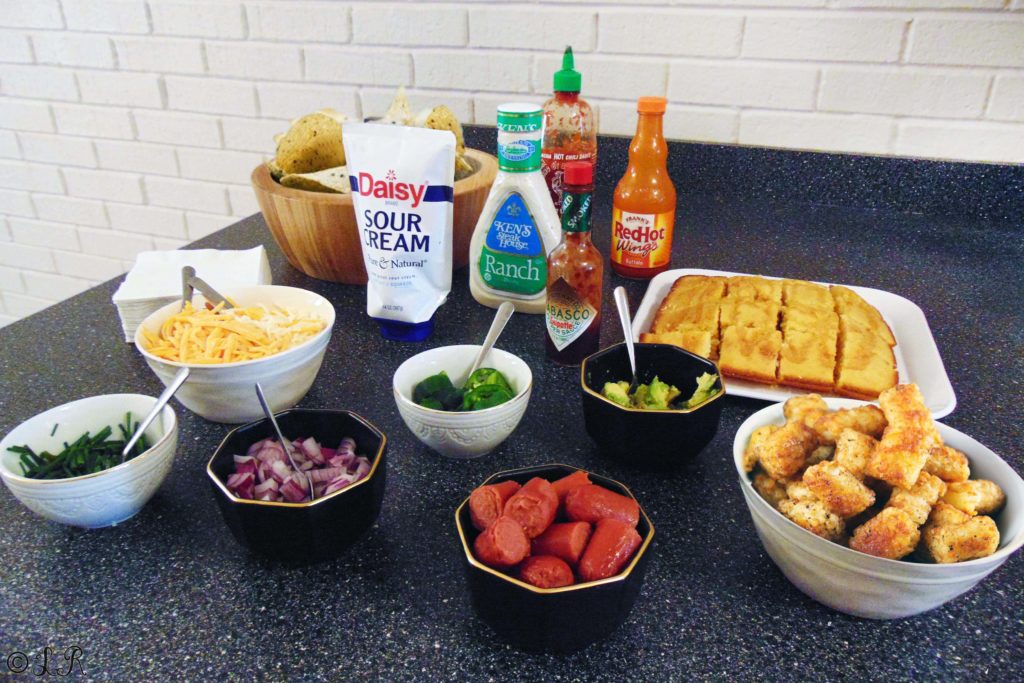 Chili Toppings:
Sauces to add heat: buffalo, sriracha, tabasco
Dressing to cool: sour cream, ranch
Chips: Fritos, Doritos, Goldfish, and "scooper" corn chips
Cheese: Mexican, cheddar, jack, etc.
Onions: green and red
Jalapenos
Sliced avocado
Tater Tots
Corn bread (duh) (try cutting it into small, crouton-sized cubes to sprinkle on top of your bowl)
Hot dog bites (think- an "inside out" chili dog)
Some ideas not shown here: lettuce, olives, chopped tomatoes, bacon (or bacon bits), crumbled sausage, corn (if not in your recipe), lime zest, fresh cilantro, sliced radishes, and french fries (for chili cheese fries)!
Sounds amazing, right? 🙂 My mouth is watering as I proof-read this post!!
---
Decor For Your Fall Party and Chili Bar
Get your guests in the autumn mood by utilizing these easy tricks to decorate your entire home- in less than one hour!
Cover every surface in burlap! Okay, maybe not every surface, but consider some areas in your home that could use a touch of this rustic fabric. Use a moderately thin piece as a table runner, add a burlap bow to the back of each dining room chair, or think about purchasing a simple burlap tablecloth. 
Wrap twine bows around mason jars and use them to hold silverware, candles (be careful!), candy, or any other miscellaneous items you have laying around. To add some depth to the bow, use a piece of twine about four times as long as you would originally need, and fold it in half twice. Snip the ends, wrap your bow, and admire your cute decor!

• Decorate with yellow daisies, sunflowers, red dahlias, orange mums, or any other fall flowers you have accessible. See my tutorial here to create your own fall faux-flower centerpieces!

Utilize seasonal pumpkins and gourds as cute, yet functional decorations. I love this idea for a pumpkin punch bowl.

(I was unable to find the original source of this image, found on Pinterest. The link only lead to spam.)

Purchase a garland of autumn leaves to string over your front door, mantle, or stairway banister. You can also set up an area against a flat wall to create a fun, fall backdrop, perfect for photo-ops!!

Photo: For The Love Of (http://www.fortheloveof.net/); Click here for this post!

•Pinecones can be used as great placeholders to mark each guest's seat! Collect your pinecones, clean them well, and paint the tips gold or silver (or you can skip the work and buy them here).
---
So, have you been inspired yet? I hope that this post covered everything that you need to make you feel excited and comfortable in hosting your next autumn-themed chili bar party!
Did I forget anything? Leave me a comment below with what some of your favorite party tips are and what you are excited to try for next time!
I can't wait to hear all about your fantastic festivities! 
XOXO,